Unique Artisan Crafted Rare Sea Glass Jewelry
I offer beautiful and elegant unique artisan crafted sea glass, gemstone and pearl jewelry.  Each of my rare genuine sea glass and beach glass necklaces and earrings are hand-crafted.  I pour through my sea glass from the North Sea of England for hours finding the perfect pieces.  I then match beautiful gemstones and freshwater pearls in the perfect hue and shape to compliment these amazing beach glass (beachglass) and sea glass (seaglass) pieces.  I offer sea glass jewelry in all of the colors of the rainbow, so you are sure to find something you adore.  From fun and sassy to elegant and stunning.  I have a sea glass jewelry piece that will fit every occasion including beach wedding jewelry for brides and bridesmaids as well as gifts for moms, birthdays, anniversaries or just a special gift for yourself someone you love.
Embarcadero Plaza (Justin Herman Plaza)
Visit me at Justin Herman Plaza. My schedule varies.
I'm there most weekends, weather permitting.
CALIFORNIA SEA GLASS FESTIVALS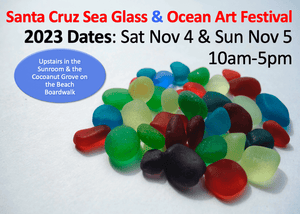 Santa Cruz Sea Glass & Ocean Arts Festival
Join me in November 2023 for the next Sea Glass & Ocean Art Festival.
Over 50 Sea Glass and Ocean-Art Makers
Kids Free
Full bar & tasty food
Event supports ocean conservation
Collectors showcase and sea glass discovery
Prize Piece contest: Sunday November 5. Submit shards 10am-2pm on Sunday. See details HERE. Tickets sold at the door (no online sales).
Venue is wheel-chair accessible.
Santa Barbara Sea Glass and Ocean Arts Festival
Join me September 9th (10am - 5Pm) & 10th (10am - 4pm) 2023
Handmade, ocean-themed art and authentic sea glass jewelry created by dozens of talented artists from across the country, this festival is the only one of its kind in Southern California - and one of only three on the entire West Coast.
This festival is the only one of its kind in Southern California, and one of three on the west coast alone. Rooted in the community, the festival's values ring true in the collaboration with local artists, the venue location, a commitment to going green, the dedicated committee of event planners, and through partnerships with non-profit organizations. Whether you're an artist or a shopper, a collector or an admirer of sea glass, local or just visiting; there's a little bit of something for everyone.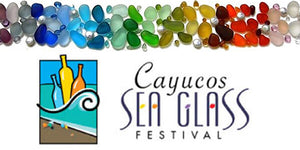 Cayucos Sea Glass Festival
TBD
Due to COVID-19, this show may be cancelled - follow me on Facebook for updates.
We hope to see you in 2024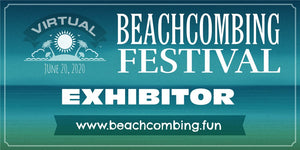 Virtual Beachcombing Festival
Thank you for joining me at the summer virtual beachcombing festival! See you in 2024.
The Beachcombing Holiday Marketplace & Festival is a place to gather together and celebrate beachcombing from the comfort of home. Watch live presentations, view video premieres, chat with other beachcombers, and ask questions of our presenters in an online festival atmosphere.