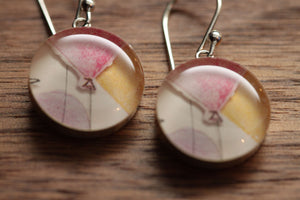 These cute Balloon earrings are the perfect gift for the birthday girl. The first balloon was invented by Michael Faraday in 1824 and were used for scientific experiments, communication and transportation... but it wasn't long before people began to have fun with them. These cute earrings are from recycled, upcycled Starbucks gift cards and are set in sterling silver and covered in a domed layer of resin.

Each pair of earrings is made to order.

These earrings are 15mm across.

This is not official Starbucks merchandise.