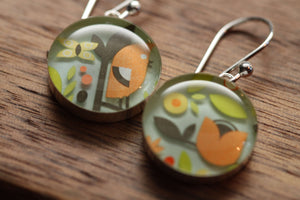 Celebrate Spring with these cheerful earrings that are adorned with a bright orange bird, butterfly and flowers. I made these from the Starbucks gift card called "Tree of Life" which is a symbol of a fresh start on life, positive energy, good health and a bright future. Made from recycled, upcycled Starbucks gift cards, these earrings are set in sterling silver and covered in a domed layer of resin.

Each pair of earrings is made to order.

These earrings are 15mm across.

This is not official Starbucks merchandise.