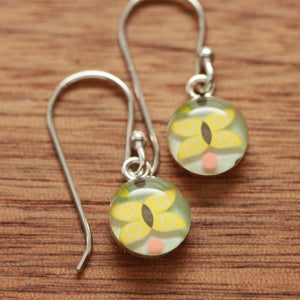 According to folklore, a wish given to a butterfly is always granted, in exchange for setting the butterfly free. Remember to whisper your wish to the butterfly when you wear these cute little earrings. Made from recycled, upcycled Starbucks gift cards. These sparkly blue feather earrings are set in sterling silver and covered in a domed layer of resin.

Each pair of earrings is made to order.

These earrings are 8mm across.

This is not official Starbucks merchandise.