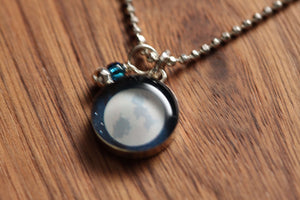 Once in a Blue moon necklace. These are especially fun to wear whenever there is a full moon. The full moon has many names. The farmers almanac has a name for the full moon for every month. There are also special moons like "Blue moons" that are the second full moon in the same month. Or a "Harvest moon" that occurs close to the autumnal equinox, or the "Supermoon" that is a full moon at its closes orbit to the Earth. This lightweight necklace is made from recycled, upcycled gift cards, it is set in sterling silver and covered in a domed layer of resin.

Each necklace is made to order.

These pendant is 12mm across.

This is not official Starbucks merchandise.