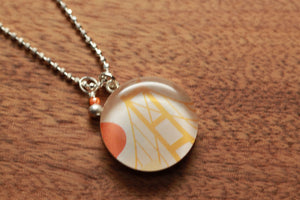 "If you are going to San Francisco be sure to wear flowers in your hair"....The Golden Gate bridge is one of the most internationally recognized symbols of San Francisco and is one of the most photographed bridges in the world. If you come to San Francisco walking across the bridge should be at the top of your list of things to do. This necklace is made from recycled, upcycled Starbucks gift cards, and is set in sterling silver and covered in a domed layer of resin.

Each necklace is made to order.

This necklace is 15mm across.

This is not official Starbucks merchandise.