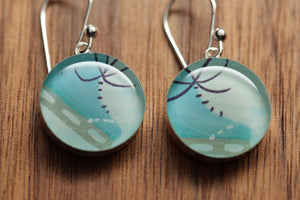 Ice skating is my favorite sport to watch during the olympics. I especially love the ice dancing. When I was 3 years old I got my first pair of ice skates. They had double blades and strapped onto my shoes. My family took me to Squaw Valley and I skated on the olympic rink dressed in red, white and blue. These earrings are made from recycled, upcycled Starbucks gift cards, they are set in sterling silver and covered in a domed layer of resin.

Each pair of earrings is made to order.

These earrings are 15mm across.

This is not official Starbucks merchandise.