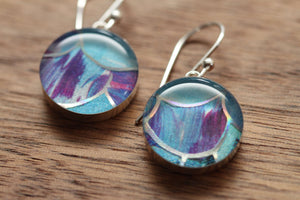 These mermaid scale earrings shimmer in the sunshine. Greek mythology has it that mermaids/sirens were beautiful with long flowing hair and sometimes lured sailors to shipwreck off the coast of an island in the South Pacific. These earrings are set in sterling silver and covered in a domed layer of resin.

Each pair of earrings is made to order and the pattern may vary.

These earrings are 15mm across.

This is not official Starbucks merchandise.