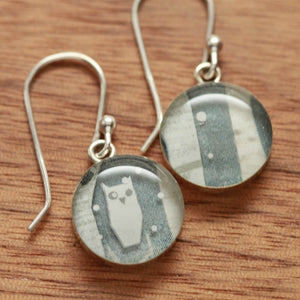 According mythology, the Greek goddess Athena, the goddess of Wisdom, had the owl as her symbol.  Channel your wisdom and inner goddess when you wear these sweet earrings. These lightweight earrings are made from recycled, upcycled gift cards, they are set in sterling silver and covered in a domed layer of resin.

Each pair of earrings is made to order.

These earrings are 12mm across.

This is not official Starbucks merchandise.