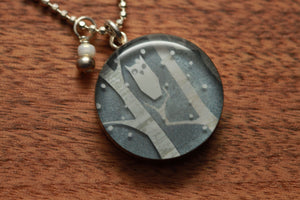 I love the sound of owls outside my window. We have several that live nearby. I had the awesome experience of holding an owl at the Alexander Lindsey Museum. The feathers are soon very soft making their flight extremely quiet. This necklace is perfect for bird watchers and lovers. This necklace is made from recycled, upcycled Starbucks gift cards, and is set in sterling silver and covered in a domed layer of resin.

Each necklace is made to order.

This necklace is 20mm across.

This is not official Starbucks merchandise.