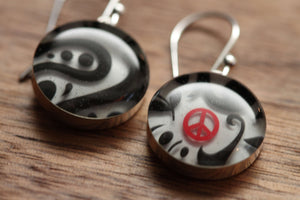 These peace sign and paisley earrings are created from recycled Starbucks gift cards. This was a Valentine's Day gift card created by Jonathan Adler for Starbucks. These lightweight earrings are made from recycled, upcycled gift cards, they are set in sterling silver and covered in a domed layer of resin.

Each pair of earrings is made to order.

These earrings are 15mm across.

This is not official Starbucks merchandise.