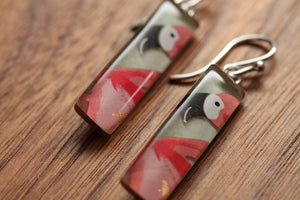 In 1957 Don Featherstone created the first plastic Pink Flamingo lawn ornament and its popularity exploded. There were even clubs that honored this Pink feathered bird like The Flamingo Fanciers of America and the International Society for the preservation of Pink Lawn Flamingos...Who Knew! These earrings are perfect for flamingo collectors. They are made from recycled, up cycled Starbucks gift cards, and are set in sterling silver and covered with a domed layer of resin.

Each pair of earrings is made to order.

This is not official Starbucks merchandise.