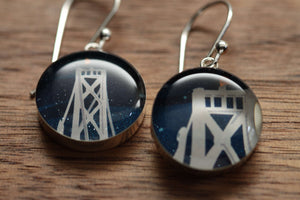 These Bay Bridge earrings are perfect to wear on your next trip to the City. The Bay Bridge is 4.5 miles long and connects San Francisco to Oakland. For the 75Th anniversary of the opening of the bay bridge a light sculpture was installed on the western span. It is a must see the next time you visit the City. These earrings are made from recycled, upcycled Starbucks gift cards, they are set in sterling silver and covered in a domed layer of resin.

Each pair of earrings is made to order.

These earrings are 15mm across.

This is not official Starbucks merchandise.