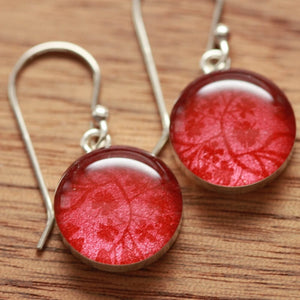 These shimmering earrings are a beautiful ruby red. Dorthy in the Wizard of Oz had here magical ruby red slippers but she didn't have these amazing earrings. Remember to click your heals together 3 times and make a wish when you wear these enchanting earrings. Made from recycled, upcycled Starbucks gift cards. These sparkly blue feather earrings are set in sterling silver and covered in a domed layer of resin.

Each pair of earrings is made to order.

These earrings are 12mm across.

This is not official Starbucks merchandise.