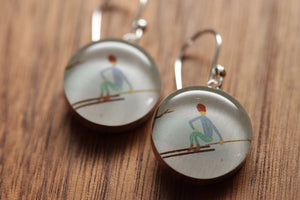 Imagine the theme song to a James Bond movie the next time you are skiing down the mountain.... Imagine incredible chase scenes, jumps and of corse you are the Bond Girl wearing the earrings that hold the secret that everyone is after... These earrings are made from recycled, upcycled Starbucks gift cards, they are set in sterling silver and covered in a domed layer of resin.

Each pair of earrings is made to order.

These earrings are 15mm across.

This is not official Starbucks merchandise.