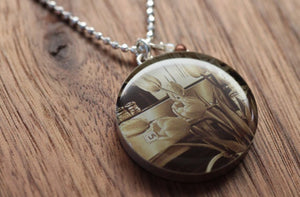 Starbucks Tulip necklace. This necklace is upcycled using the "Barista" recycled Starbucks gift card. The photo on this card is a picture of the original Seattle Starbucks store. This classic necklace is set in solid sterling silver. The image is sealed and protected with a thick domed layer of clear resin and embellished with a small beaded charm.

Each necklace is made to order.

The Starbucks Tulip pendant measures 25mm across. (Almost 1 inch across)

This is not official Starbucks merchandise.