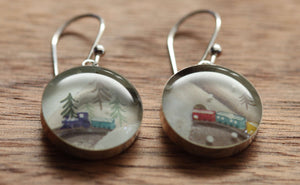 There is nothing like traveling across country on a train; The beautiful scenery, the old world feeling of relaxed travel and romantic stories of the orient express. These earrings are made from recycled, upcycled Starbucks gift cards, they are set in sterling silver and covered in a domed layer of resin.

Each pair of earrings is made to order.

These earrings are 15mm across.

This is not official Starbucks merchandise.