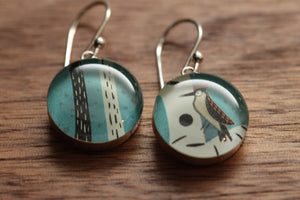 These cute woodpecker earrings are the perfect gift for the bird lover in your life. When I make these I can't help but think of Woody Woodpecker and Saturday morning cartons from my childhood. Made from recycled, upcycled Starbucks gift cards, These earrings are set in sterling silver and covered in a domed layer of resin.

Each pair of earrings is made to order.

These earrings are 15mm across.

This is not official Starbucks merchandise.